just gettin started. opinions appreciated

04-24-2006
just gettin started. opinions appreciated
---
ive just gotten started fixing her up. but i have no idea where to start.
any ideas will be appreciated.
please not only say what part i should do, please say what brand and model for the part too so i have an idea of stuff worth buying.
thanks everybody. im trying to avoid the rice but i seem to keep looking at ricer stuff. meh.
i know alot of you dont like the neon things but i do like them and they look very good if done correctly. my bulbs are teh invisible!!!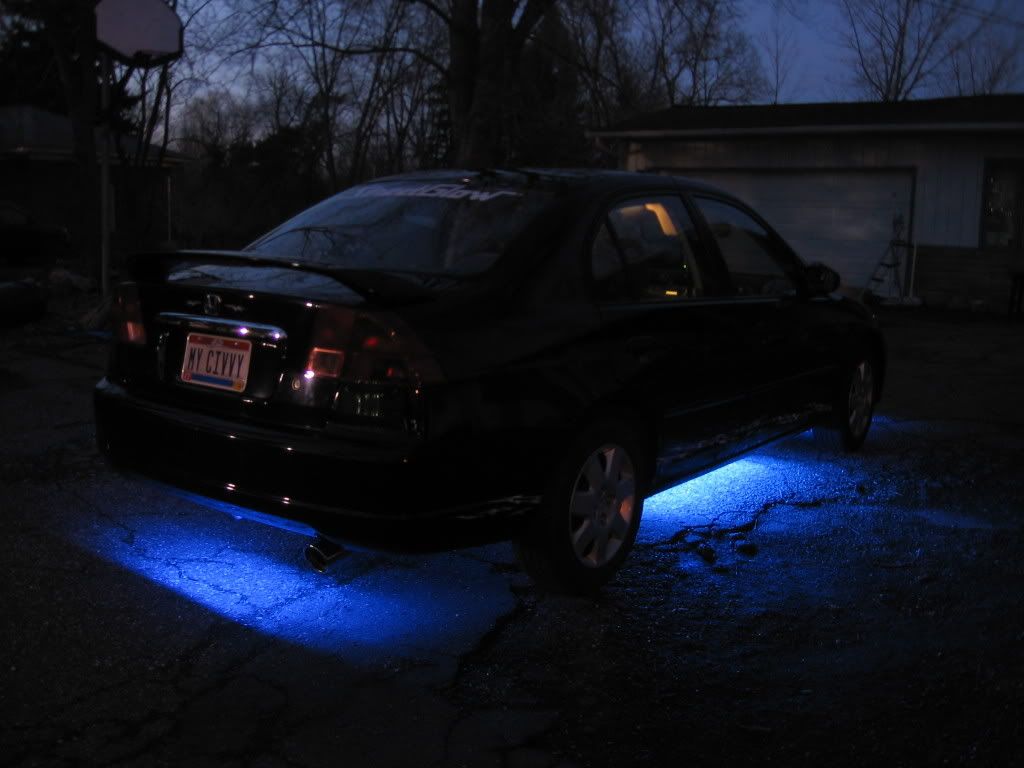 04-24-2006
k. ill end up taking the sticker off.

i will be doing tint soon. i want to do a really dark tint but the most allowable in ohio is 50% on the front 2 windows and having 50% on the front 2 and like 15% would look retarded. would it be nice and dark with 50% all around?

what kind of rims would look good? i was kinda thinking some black on chrome.

04-24-2006
...JeRsEy sTyLe...
Join Date: May 2005
Location: Long bEach island JErsey
Age: 30
Posts: 2,774
Rep Power:
195





if you have the money get sum volk gt-u in gold 17inch they look sooo hot on black if notthen get sum black wheels with a deep dish polished lip. and lower it like 2inches if not lower

04-24-2006
ill take some pics of the tubes when i get home. we had to do some cutting to get it right. we mounted the back behind the bumper and on some metal. we had to cut the bottom of the bumper so the light can be seen. but get under your car and look behind the bumper. there is a good spot. the front was mounted to some metal right under the radiator. we also had to cut some kind of dirt blocker thingy.

i actually do drive with my neons on. its perfectly legal here in ohio. i keep a copy of the law in my glove box too, that way the cops cant give me a ticket. or i can at least fight it if they do.

im not really a fan of gold rims. they look too gaudy. i do like polished silver, gunmetal, black, or chrome rims. not sure what would look the best on my car though. but i will be gettin 17's.

04-24-2006
Official Rattlesnake Hunter
Join Date: Jun 2005
Location: Valley Of The Sun...
Posts: 5,495
Rep Power:
226





PLEASE KILL THE STICKER! & the the under glow
Slam it! & get some good rims!
I have Ground Control on my car for suspention! As for the rims... whatever floats your boat

Thread
Thread Starter
Honda Civic Forum
Replies
Last Post
I.C.E. (Audio) & Electrical Upgrades
General Automotive Discussion
General Automotive Discussion