Brobo's Build... (56k WARNING)

08-27-2011
Brobo's Build... (56k WARNING)
---
Sorry for reposting , kinda figured out i have my ride under the wrong section so here's it again in the correct place.
After 3 weeks of searching craigslist. I found her with a snapped timing belt.
She's a 2003 Civic ex
5 speed
With only 88012 miles
Got her for $2400
luckily i have a spare d17a2
Btw I am a 15 year old and this is my 4th car lol
here she is Arriving
lol my dad
And me and some how my 6'5 *** fits in the car lol
This body kit is from the dealer
should i keep it?
under the hood
more to come this weekend.

so heres an update but first your wondering how can i afford this???
well when i was 13 i was a typical xbox fanatic and played 12 hours a day HOLY S**T! So my dad got tired of the bs so he smashed my xbox. I hated him for a day then i realized how stupid i was and i fixed that xbox and sold it . From there on over a period of a year i got into computers and made alot of small amount over a time and i got around 1500 bucks. So where i work at, a little arab computer store, one of my bosses friends wants to buy an 2001 civic ex auto, blue in color for $400 . so i jumped on it and ask for the girls number , next day i went to see that civic on a school day , but my dad didnt mind taking me. The car was a 2001 honda civic ex ,2dr auto,141k and the girl drove it with the oil light on for 3 weeks and threw a rod so i buy that car. my cousin swaps the engine and i loved it and washed it every 4 days , even if i only drove around the block at night.I bought rims and exhaust and intake Here she was
after a year i sold it to a friend and i bought a 99 civic ex salvage title.i slapped a body kit on it and ruined it. I ended up selling it to a person for 4500 and paid 4500 in parts. Over time i earned a couple grand plus the 4.5
and i bought a 2003 vw jetta 2.0 for 7200 with 45k and my dad drove a 2001 civic ex 4dr auto. so i got bored really fast with the car and my dad loves vw and especially this one , so we traded and i sold his civic and bought this one now for 2500 and i got 4000 to use .
So 1500 left for mods .
Now for the update: I woke up at 8 and started to take apart the car and worked up to 8 pm and i pulled the engine , but i did notice that the a/c compressor was totally jammed and the guy i bought it from guessed it was the timing belt , but i think the a/c was the issue, ill find out when i rip apart the old engine.
Ripped the harness off and now i a writing this .
My camera died and i only got a few pics . The bottom engine covers were gone and there was salt all over the engine bay so its rusty inside but outside minor scratches and i rust spot on the bottom of the door.
Next to my sis's eclipse
HUGE UPDATE:
Well i went to harbor freight and got an engine stand.
here are some pics
Geting the tranny off
This i think is the problem not the belt
Taking clutch off.
Comparing the looks of my engine with the civic's
The new engine with only 44k with papers
Extra parts
Harness
The new stand
Got the engine on the stand
And of course my dad takes a pic of me all sweaty working
btw look at me next to my garage
YES BROBO 4 THE WIN= No snapped timing belt = bad a/c compressor
Gsr shift **** in my car
I removed the timing belt for a new one and pump
Here is the engine being spun = win and no bent valves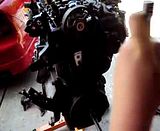 Mini update:
well got a little something done
first things first a Cappicino
Water pump installed
My peeling clear coat
Painting fuel rail
My rims
Aircraft remover
Painting my vc
Removed my exhuast
Painted a/c bracket
Vc sexy
PArt of starter before and after
The a/c bearing is shot
Curious about the internals of a a/c comp
Glory shot
Update:
Got some seals
New valve cover bolt seals
old pain in the *** bitches
Tensioner
Timing belt installed and covered
Valve cover on
Spark coils on
Vtec on
Sexy
Old exhuast
After some wire brushing
Before
Debadged
Update:
I got a big *** package . laptop is a size comparison
Before
Old rusty abs pump
Ty god for letting me get that 05 civic ex for 300 with 44k that was rolled 10 times lol
look at the neweeness lol
Powered by BROBO
Old spilter vs my 05 one
My rusty *** brake lines a safety hazard lol
Refinishing the descent lines rest are replaced
luckily i saved all the brake lines from the 05 lol
Painting with high resistant rust and heat paint
Also my bad condesor as a painting booth
All my good new lines with the new abs pump in so clean!
Hazard or what lol!!!!!
Update :
got the car running and only 1 pic today
painted wheels and removed side skirts for rethreading of the threads
update:
Got my spalsh shields from before
Painting my rims
Refinishing my rusted wheel well
Prep
Paint
See that deep scratch
After
How she looked 5 days ago
I got jacked lol
How she looks today
Best one so far
Starting to remove interior for more HP!! IM KIDDING
u see its pink
CLEANING
Anyone for french fries???
MOre Cleaning
Seats so i can drive
What can i do to fix this?
Gsr Shift ****
That all

08-27-2011
Kenny the Ricer
Re: Brobo's Build... (56k WARNING)
---
I just moved your other thread to this forum, closing this for now

PM me if you want this thread open and to close the other one, or just to remove this thread.
Don't really need 2 of the same threads
Thread
Thread Starter
Honda Civic Forum
Replies
Last Post
Wheels, Tires & Brakes Modifications
Mechanical Problems/Vehicle Issues and Fix-it Forum