My 2001 EX work in progress

01-01-2006
2001 Rallye Red EX
Join Date: Nov 2005
Location: Orlando
Age: 43
Posts: 253
Rep Power:
165





Originally Posted by drew22mader
Cameras do help with color but a i've seen a couple red civic around here and none looks as bright as mine. People treat there cars like they are a POS. and people wonder why my car stays in the garage all winter.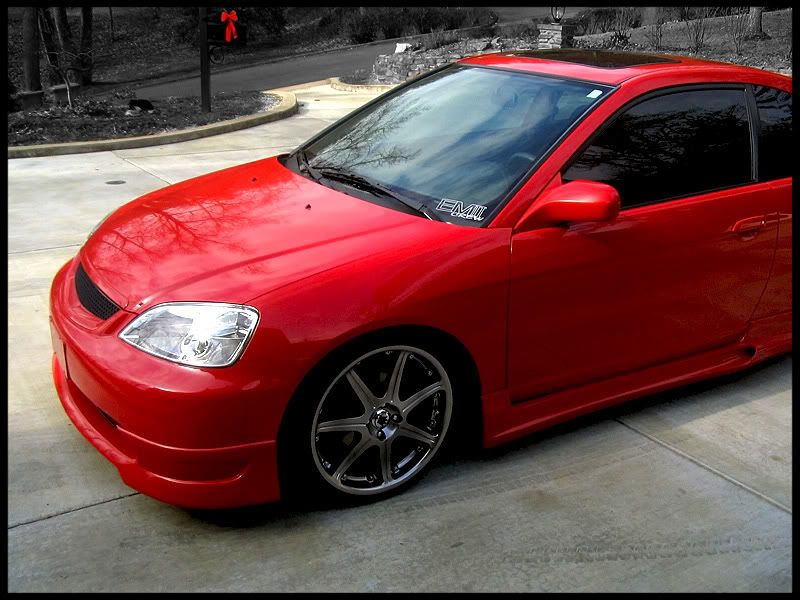 Yours does look awesome. Looks like a piece of candy.
My other project right now is making my two car garage able to fit two cars in it. =) I'm putting a floor in the attic above the garage so that I can put all my crap up there. My wife and I both got nice cars recently and we're going to take good care of them. She's got one of the 2004 limited orange Scion XB's.
The sun in Florida will kill paint so fast, but even more annoying... before the paint starts getting ruined... all the black trim starts to look bad. The lower black trim on the doors under the windows on my car is all spotted and rough.

01-01-2006
There is
[email protected]
in my @SS...
Hey! Look At Me!! I'm a Supporting Member!!
Join Date: Apr 2005
Location: Portsmouth, Ohio
Age: 34
Posts: 5,067
Rep Power:
233





/\ thanks man, yea i just try to take care of it as much as possible. its a 2002 and the painter for my kit said that he barely needed to go any lighter on the paint due to fading, he said for a 2002 paint job it looked brand new. I'm gonna shave my emblems off my trunk soon, hopefully everything looks ok.

01-01-2006
2001 Rallye Red EX
Join Date: Nov 2005
Location: Orlando
Age: 43
Posts: 253
Rep Power:
165





Originally Posted by blouisgod
good start to the project by cleaning it up. what about removing that pinstriping?
Pinstriping will be taken off... I've been a little hesitant to take that off by myself. Next time I'm at the inlaw's I'll see what solvents he has. It seems like its really fused onto the car whereas the dealer stickers were really easy to get off. I don't want it to look worse than it already does.
Drew> in my pics I don't think my car's color looks close to yours at all... but I just went outside and it's a little overcast out right now so the sun is not washing everything out... and my red looks pretty close to as good as yours. My car is dirty right now. I'll be washing it on my day off. I hate carwashes.

02-06-2006
Registered!!
Join Date: Feb 2006
Age: 37
Posts: 4
Rep Power:
0

hey thats cool digital!, i wanted to ask you what size tire did you get all around for your car? i know they're 17's but, whats the rest of the profile size? i am thinking of gettng 215/45/17 for my car. i'll get the FALKEN Ziex Ze-512 tires i've got my enkei mm2 (silver) rims ready for my car as soon as i get the money for the tires. my car is completely stock right now. however, I DID, take those damn oem pinstrips off of my car as soon as i got it. got it from a private seller so there's no warranty on it. gotta be careful. i'm also getting the V2 intake for my civic too. my car is a 2002 civic Ex coupe, (white). i also got the sylvania silverstar light bulbs for my car. haven't installed anything yet. LOL...i don't know whats the hold up. hmm........?


LAZY BASTARD!!!
Thread
Thread Starter
Honda Civic Forum
Replies
Last Post
Mechanical Problems/Vehicle Issues and Fix-it Forum
Mechanical Problems/Vehicle Issues and Fix-it Forum